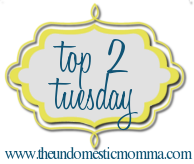 This weeks topic is..............Strange Addictions!
Apparently this topic was a little too hard for me :) Every addiction that I kept coming up with was not a STRANGE addiction (coffee, iced tea, shopping), so I had Husband answer for me and here is what he says are my 2 Strange Addictions:
1) Picking the skin on my fingers/lips------ Yes, this is probably gross to most people, but I cannot help constantly picking at the skin around my fingers or picking at my chapped lips- even to the point of making myself bleed :( It drives Husband crazy!
2) Every time I eat popcorn (which is several times a week!) I HAVE TO lick the butter off the popcorn bag! I know this is probably absolute worst thing to do, but I just cannot help it!