I would like to say a big, BIG thank you to Stephanie from
Houghton Happenings
and Al from
Traffic Jelly
for awarding me with this:
Both of these ladies are great and I enjoy reading their blogs so much! Stephanie is currently preggo with her 2nd little one and its a baby girl! I just cant wait to see pictures when she finally arrives!
Al has been such an inspiring woman with everything she has overcome in this past year. She has learned to roll with what life throws her way and she has held her head high through it all! I really hope to see some great things come her way in 2011!
With this award, I am to list 7 things about myself and award it to others, so here we go:
*I am headed back to school (more about this to come later in the week!)
*I love all things pink- its my favorite color
*Husband and I have made a pact that all of our dogs will be adopted (because there are so many good ones out there deserving a loving home!), but I understand that not everyone wishes to do this
*I am watching the Golden Globes while writing this post :)
*I am currently obsessed with eating organic yogurt with sliced fruit for breakfast each morning- it makes me feel like I am starting my day off right!
*I absolutely love traveling-- and will finally get to travel outside of North America on our anniversary trip in September! (some of you may know where, but I am not officially sharing until we get the trip completely booked!)
*For new readers: I have now been struggling with infertility for 1 year and 3 months
Blogs I am tagging:
Brittany's Blessings
The Kubeczka Family
The Schulers
A Complete Waste of Makeup

Lastly, I am getting super excited for this: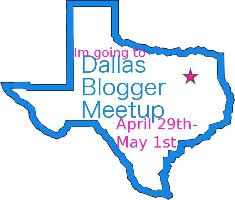 Yes, I will be attending for the ENTIRE WEEKEND and I hope to see many of your faces there! One of my besties,
Taylor
, is putting it together and I am looking forward to helping her organize some of the events! Everyone start getting excited because it will be AMAZING! :)